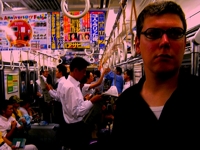 Antoine Chessex (*1980)
Saxophones
Antoine Chessex is a composer, saxophone player and performer born in 1980 in Vevey, Switzerland. Chessex investigates the possibilities of both electronic and acoustic music. His sonic researches include compositions for ensembles, solo performances and collaborations with other artists. Chessex´s works are based on the exploration of the physicality of sounds and spaces.
He presents his works worldwide and appeared in numerous international festivals. Collaborations with musicians like Lasse Marhaug, Zbigniew Karkowski, Chris, Corsano, Ilios, Didi Bruckmayr, Thomas Ankersmit, Valerio Tricoli, C. Spencer Yeh, Axel Dörner, Hans Koch, Robin Hayward, Lucio Capece, Dave Phillips, Kasper Toeplitz, Monno, architect Christian Waldvogel and media artist Ulrike Gabriel.
Selected performances 2002-2009: Videotage (Hong-Kong) / Urga (Tokyo) / Namba Bears (Osaka) / Urbanguild (Kyoto) / Ochiai Soup (Tokyo) / Npai festival (Niort) / Tuned city festival (Berlin) / Club transmediale festival (Berlin) / Ultra hang festival (Budapest) / Unsound festival (Krakow) / Dom (Moscow) / Kitaesky letchik (Moscow) / Sound forest festival (Riga) / Factory club (Helsinki) / Vaal gallery (Tallinn) / Instants chavires (Paris) / Overkill festival (London) / Lem festival (Barcelona) / Sensexperiment festival (Cordoba) / International film festival (Rotterdam) / LUFF festival (Lausanne) / DNK (Amsterdam) / Cap sembrat festival (Barcelona) / Sons d´hiver festival (Marseilles) / Hurrah festival (Copenhagen) / Pusterviktheater (Goteborg) / Antzokia (Bilbao) / Fundacion luis seone (Galicia) / Swiss institute (Roma) / TAG (Den Haag) / Mezzo cielo festival (roma) / Corsica studios (london) / Sonic protest festival (paris) / Ze dos bois (lisbon) / Szene (Vienna) / Palace akropolis (Prague) / Castro (Skopje) / Walcheturm (Zürich) / Living room (Belgrade) / An club (Athens) / Eightball (Thesaloniki) / Audio art festival (Krakow) / Ruin festival (Vienna) / Gallery ak28 (Stockholm) / Kset (Zagreb) / …
Chessex gave lectures and workshops at the Goldsmiths College, London University, New Music foundation in Oslo, Hochschule für Gestaltung in Offenbach/Frankfurt, the Academy of the Arts in Riga and the department of electronic music of the Conservatory in Krakow.
Antoine Chessex appears on schraum 1.