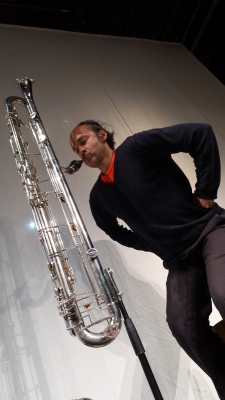 Regreb / Laurent Berger (*1968)
Schlagzeug, Elektronik
Member of Burstscratch collective in Strasbourg / France since 1994, working in his own 16mm and super8 film laboratory with Silvi Simon and Laurence Barbier on production of cinematographic performances, installations or individualy experimental movies, and organising experimental films and performances sessions in various places.
Member since 1993 of the noise experimental rock band Sun Plexus with Sébastien Borgo and Rémy Bux, developing their sonorous works on many ways like concerts, visual and sound performances, soundtracks, concrete music, collaborations with other bands, discographic productions.
Member since 2005 of improvised music trio Suboko with Bouto and Pascal Gully playing percussions, objects, turntables, electronic, tapes in live improvisations, improvised soundtracks for movies, collaborations with other musicians, discographic productions.
Noise duo Regreb&Ogrob with Sébastien Borgo working on sound and visual performances.
Various musical collaborations with Aymeric De Tapol (+ Ou -), Michael Cohen (John Merrick v/s Loreleïl Von Regreb).
Solo cinematographic installations, sound installations with random played sounds, solo drone cymbals performances.
Projectionist in different movie theatres in Strasbourg.
Regreb appears on schraum 14.