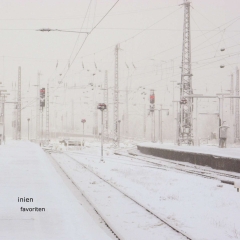 inien: favoriten
schraum 12, 2011
Axel Haller: Bass
Johannes Tröndle: Cello
If you think Kronos Quartet is too mainstream, this may be one to check out.
Chain D.L.K. (Italy/ USA)
inien is Axel Haller (Berlin) on electric bass and Johannes Tröndle (Vienna) on violoncello and it´s not their first appearance on schraum. Tröndle is part of the duo nörz who released their album (also known as) acker velvet in 2009 whereas Haller can be heard on various schraum releases.
Combining electric bass and cello might seem a little awkward at first, but listening to it drags you into a world of low frequencies, crackling sounds and beautifully set single notes that captures the attention like eavesdropping on a very intense and deep conversation between two philosophical minds.
In order to develop and elaborate this conversation, Tröndle and Haller have creatively extended their techniques to drive the attention away from the actual nature and ability of the instrument straight towards the substance of this duet.