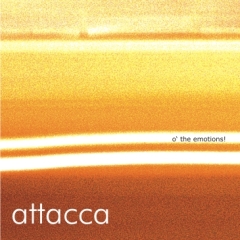 attacca: o' the emotions!
schraum 15, 2012
Matthias Müller - Trombone
Dave Bennett - Guitar
Axel Haller - Bass
... they create something like a newly discovered genre: chamber music with futuristic qualities.
Great record!
(freiStil, Austria)
attacca is the trio of Matthias Müller (trombone), Dave Bennett (guitar) and Axel Haller (bass) and was founded 2010 in Berlin.
The three musicians can already be heard on various schraum CDs released during the recent years and impress with their own personal style. Each of the them draws on a wealth of experience and is, in one way or another, involved in the vivid music scene of Berlin.
Müller, Bennett and Haller have formed a strong and distinctive group sound, which creates space for individual decisions, always allowing the music to follow new paths. Based on this knowledge and through their interaction the music of attacca merges into a collectively explored and spontaneously created work of sound.
schraum is proud to present attaccas debut o' the emotions – an album that succeeds to document the trios rich musical language.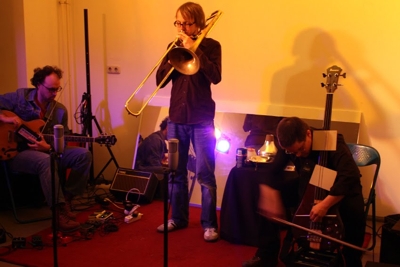 Foto: Nicolas Wiese