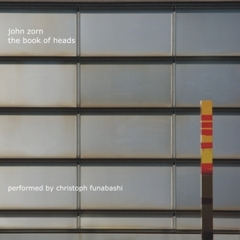 John Zorn: The Book of Heads
performed by Christoph Funabashi
schraum 16, 2012
Christoph Funabashi - Guitar, Objects, Voice
Funabashi lays down a finely crafted and creatively virtuosic interpretation of one of Zorn's most demanding works. Recommended.
Chain D.L.K. (USA)
The latest schraum release of John Zorn's "The Book Of Heads" represents a journey for us into uncharted waters: it's not so much the blending of composition and improvisation that is important, but more the fact that there is a composer and an interpreter who are not one and the same person. Also for the first time, it is a release with only one protagonist to be heard. The 35 etudes, written in 1977 for Eugene Chadbourne, and skillfully and bravely played by Christoph Funabashi, prove once again that the record label picked out a wonderful recording to release.
The Hamburg based guitar player Funabashi had been working on "The Book Of Heads" for a couple of years, when, after a performance at the 2011 schraum festival, all three labels owners decided then and there to release the not yet existing recordings. It was only a question of when. In the summer of 2012, Funabashi locked himself in the studio and recorded all 35 pieces, using four different guitars, a number of balloons, several metal objects, styrofoam, music boxes and various violin bows, challenging not only himself as an instrumentalist but as an interpreter as well. Everything was recorded live; no overdubbing or editing was involved in the production of this record.
Before embarking on this project, Funabashi and schraum obviously had contact with John Zorn himself, talking about the compositions and the recording process itself.This recording of the complete "Book Of Heads" is only the second example worlwide Marc Ribot recorded the first one in the year of 1995 for the label Tzadik. We are very happy and proud to present Christoph Funabashi and his version.