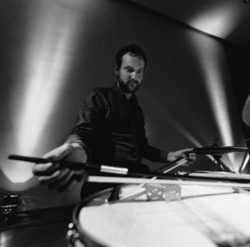 Etienne Nillesen (*1978)
Drums, Percussion
Etienne Nillesen is an active voice on the European creative music scene, with regular performances across Europe, Asia, America and Africa.
His main focus is improvisation with ongoing collaborations including the trio OGU, and STØY in which he is exploring all the musical possibilities
just playing a snaredrum and a cymbal with all kinds of sticks, toys, bells and bows.
His interest in various forms of exploratory music gave him the opportunity to work with artists as Simon Nabatov, Ernst Reijseger, Rudi Mahall, Claudio Puntin, Philip Zoubek, Sebastian Gramss, Matthias Schrief, Shelley Hirsch, Carl Ludwig Hübsch, Florian Weber, Eivind Aarset, Tom Arthurs, Robert Landfermann, Bram Stadhouders, Jeroen van Vliet, Udo Moll, Sebastian Duboc, Simin Tander, Frank Wingold, Frederik Köster or Matthias Muche at festivals like the North Sea Jazz Festival (NL), HongKong International Jazzfestival (CN), Beishan International Jazz (CN), Bohemia Jazz Fest (CZ), OCT-LOFT Jazz (CN), Women in Jazz (DE), Jazzfest Berlin (DE), The Hague Jazz (NL), Madrid International Jazzfestival (ES), Catania Jazz (I), Caïro International Jazzfest (EG) and clubs all over the world.
Etienne Nillesen appears on schraum 19.