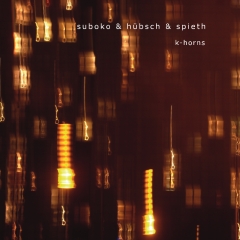 suboko & hübsch & spieth: k-horns
schraum 14, 2011
Carl Ludwig Hübsch - Tuba
Roland Spieth - Trumpet
Suboko (Bouto & Gully & Regreb) - Drums, Metals, Turntables, Electronics & Objects
… engaged in a short bout of free improvisation that produces 38 minutes of pure pleasure.
Monsieur Délire (Canada)
"Ein Tag vor zwei Jahren" - On a day two years ago – those words are the titles for the five pieces on k-horns, an album that came into being two years ago through the collaboration of two German brass players and a French percussionist trio. Respectively Carl Ludwig Hübsch (Tuba), Roland Spieth (Trumpet) and suboko which is Pascal Gully (Drums), Regreb (Drums, Electronics) and Bouto (Turntables, Electronics, Percussion). Those five musicians collaborated quite a couple of times live on stage in cities like Cologne, Karlsruhe and Strasbourg but they haven't brought anything to record – until now!
Schraum´s number fourteen surprises and catches with a well composed juxtaposition of dynamic and expressive passages and minimalistic noisy landscapes.
The interlock of these five musicians catches right away and the sound extract that drips out of the speakers lets you forget thinking about the classic division of work for drummers and brass players. The group is excessively maxing out its musical parameters as well as the possibilities of each instrument on k-horns and schraum is very proud to present this album, as well for the fact that four of the five players never appeared on the label. Roland Spieth played on Fauxpas by Trio Vopá (2006) and on Some of the things we could be by Torsten Papenheim (2009). We enter something new and quite exciting - join us!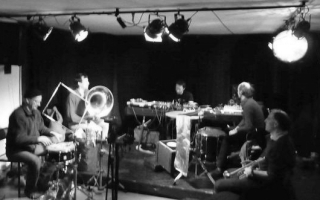 Foto: Hubert Krauth