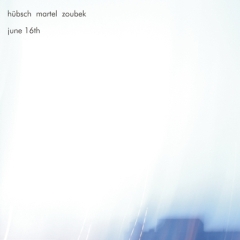 hübsch / martel / zoubek: june 16th
schraum 17, 2013
Carl Ludwig Hübsch - Tuba, Objects
Pierre-Yves Martel - Viola da Gamba, Objects
Philip Zoubek - Piano
Gorgeous.
Monsiuer Délire (Kanada)
On "June 16th" of last year, Carl Ludwig Hübsch, Pierre-Yves Martel and Philip Zoubek met in Cologne's "Loft" to record live this album of the same name.
Our fourth german-canadian trio - the first being Hotelgäste, followed by Ostendorf / Lauzier / Zoubek and attacca - we are very proud to continue in the fine art of music that physically drags the listener into wondrous landscapes of secrecy and transparency, quiet and pointillistic communication and a surprisingly new combination of instruments: viola da gamba, piano and tuba. Highly virtuosic and with a rich vocabulary of extended techniques these three musicians tell a captivating story.
Carl Ludwig Hübsch can also be heard on "k-horns" and Philip Zoubek on "subsurface". Now we are proud and happy to present Pierre-Yves Martel as a new member of our growing label family.